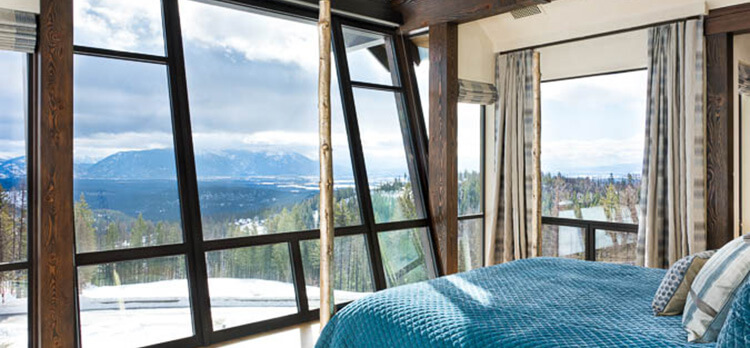 At Architectural Windows & Doors, Inc., we are pleased to be the Aspen area's go-to provider for high-quality windows and doors, including products from Loewen, Albertini, Arcadia, Weiland and many more. Many of our customers have never purchased windows for their homes before, so it's not unusual for them to have questions about what they should take into consideration when choosing high-end windows for their home.
There are so many styles, materials and features to choose from, more so than ever before for residential purposes. Let's take a look at some of the issues you'll need to navigate when working with a window supplier in Aspen, CO for new windows.
Styles
There are a variety of window styles, the four most basic of which are single/double-hung windows, awning windows, casement windows and slider windows.
Single- and double-hung windows are the most popular, and you'll find them in by far the largest number of homes. They feature a separate sash that opens or closes by sliding either up or down. Single-hung windows have only the bottom that slides up, while double-hung windows also have a top that can slide down.
Casement windows feature one large sash that swings out with a lever or other type of control. Awning windows are hinged at the top and get tilted out from the bottom. Slider windows have windows that open from side to side, which is ideal for locations in which the outside space is limited for swinging open a window.
Materials
Vinyl windows are probably the most popular choice for homeowners these days, as they are essentially maintenance free, are great with insulation, look nice and are affordable. But you can also still find plenty of options for wood windows, as wood is beautiful and has some good insulating properties. Keep in mind that wood requires much more maintenance, as there's the need for regular refinishing or painting and the potential for rot to set in.
Glass
Many people aren't aware that there are multiple types of window glass you can choose from. Not only can you select the number of panes, but you can also consider the amount of space in between those panes. It's actually that space between the panes that determines how well the windows insulate your home, rather than the number of panes themselves. Manufacturers insert inert gases like argon between the panes to provide better insulation. You can find impact-resistant glass, or low-emissivity glass, which has a thin layer of material on the surface that reduces the amount of heat that's able to transfer through the glass.
Warranties
Windows account for a significant investment in your home, so it's a good idea to protect that investment in whatever way you can. Look for providers that offer strong warranties on the windows themselves, as well as on the installation process.
For more information about choosing high-quality windows for your home, or to work with a high-end window supplier in Aspen, CO, reach out to the team at Architectural Windows & Doors, Inc. today. We'd love to introduce you to some of the finest brands in the industry!
Categorised in: Replacement Windows